Massage Therapy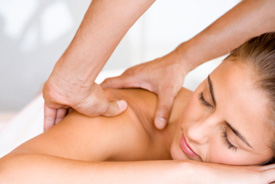 If you're in a state of discomfort, you feel limited in your life. You might not be able to go out for walks, play with your children/grandchildren or are missing work. Massage can provide incredible benefits to help you feel better, function better and relax. We're pleased to provide massage therapy on-site at Matheson Chiropractic & Wellness Centre.
What Is Massage Therapy?
Massage therapy consists primarily of hands-on manipulation of the soft tissues of the body, specifically, the muscles, connective tissue, tendons, ligaments and joints to optimize health.
The most common conditions we see for massage, include pain, particularly in the back, neck and shoulders. Full body massages can be ideal for nearly anyone. If you sit at a desk all day, feel stressed or have postural problems, massage can help you find relief.

How Massage and Chiropractic Complement Each Other
Massage therapy works well with chiropractic adjustments by decreasing the muscle tension in the affected areas. Our patients love the powerful combination of massage and chiropractic. Most people come to Dr. Matheson feeling sore. Massage can often alleviate that soreness by increasing your circulation, helping you feel more relaxed.
When done before the adjustment, massage will allow spinal areas that need to be adjusted, to move more freely. After the adjustment, it can decrease any inflammation that may have been caused, plus aid in the recovery process.
If you are a current patient of Dr. Matheson's and he believes you can benefit from massage, he will discuss that with you. You do not, however, need to be a chiropractic patient to schedule a massage at our office.
Meet Sean McCabe, Our Registered Massage Therapist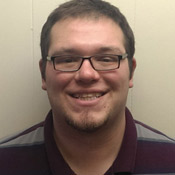 "The moment I chose to become a massage therapist was when I was dealing with post-concussion symptoms. After receiving massage therapy for my condition, I was very interested in learning and practicing massage."
Education and Training
Sean has been a certified, practicing RMT since October 2010. In 2006, he graduated from the Pre-Health Science course at Lambton College, followed by the three-year Massage Therapy program in 2010. During that time frame, Sean also was certified in therapeutic ultrasound, first aid and CPR.
To further his education. Sean has received training and earned certification in the following:
Swedish massage
Trigger point therapy
Manual lymph drainage
Acupressure
Reiki
Therapeutic ultrasound
Remedial exercises and stretching
Providing Effective & Compassionate Care
When a new patient first meets Sean, they can tell he is very easy to communicate with about what they're looking for in their treatment. They will also find Sean has a warm and compassionate attitude towards their rehabilitation and will try to do everything in his scope of practice to help. What Sean loves most about being an RMT is seeing patients progress through their rehabilitation.
He also is passionate about helping people and educating patients about the anatomy involved and exercises prescribed. "I feel this will only encourage people to further their progression." When he's not at work, you will find Sean chasing his two kids, at the hockey rink or on the baseball diamond.
Most extended insurance benefits cover the cost of massage therapy. Some insurance companies, however, will require your family doctor to write a letter stating you require massage. It's best to call your insurance company to find out whether you need to do anything to collect your massage benefits.
FAQ
Who can benefit from massage?
Everyone benefits from massage therapy. Whether it be stress, aches and pains, headaches, sciatica, or if you just want to relax after a long day.
How should I prepare for my first session?
If you are a new patient coming in for your first treatment, please wear loose-fitting clothing that you can move freely in. I will probably need to have you move during certain assessments. With me, communication is key. If you have any concerns or questions at any time during the massage, please feel free to ask.
Will I need to undress for my massage?
You can undress to your level of comfort. While some patients elect to undress completely others choose to leave some clothing on such as underwear. Rest assured that you will be appropriately draped at all times.
Book Your Time Today
Experience the fantastic effects of massage therapy. Contact us today to schedule an appointment!

Massage Therapy Sarnia ON | (519) 332-8133